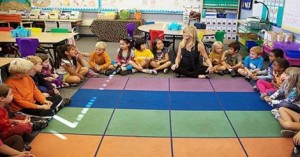 So what do actress Goldie Hawn, elementary students, and meditation have in common? A lot more than you would think probably! All three are at the heart of a study showing that students who practice mindfulness not only are less stressed but are also more caring individuals who excel at math and are more successful in the long-term.  The results of the study, Enhancing cognitive and Social-Emotional Development Through a Simple-to-Administer Mindfulness-Based School Program for Elementary School Children: A Randomized Controlled Trial, was published last month in Developmental Psychology.
The study was carried out at the University of BC by researchers from multiple disciplines including neuroscientists, developmental paediatricians and psychologists. It looked at the effectiveness of Ms. Hawn's MindUP™ social and emotional learning program on 99 grade 4 and 5 students at four elementary schools in Coquitlam in 2008. All of the students provided a saliva sample to measure their stress hormone levels and were tested on cognitive skills like memory, concentration and focus. Peer and self-reporting were also used.
MindUP™ was started by The Hawn Foundation to "teach social and emotional learning skills that link cognitive neuroscience, positive psychology, and mindful awareness training using a brain centric approach" (The Hawn Foundation). In practice, it means that students are taught a number of mindfulness practices, including mindful tasting, listening to music, and "brain breaks" three times a day. During these "brain breaks" students in the program are asked to pay attention to their breathing for three minutes.
Teachers of the program have remarked that it helps them save time, maintain student focus and allow them to have more control and patience with their students. "Mindfulness is paying attention on purpose in the present moment without judgment," said Kimberly A. Schonert-Reichl, an education professor and interim director of the Human Early Learning Partnership.
It's not surprising then, given the intention of the MindUP™ program that students in the program were more optimistic and helpful and also better liked by their peers when compared to those that had been taught caring for others but minus the mindfulness component. In the words of Schonert-Reich, "Our findings suggest that children who are taught mindfulness – to pay attention to the present intentionally and without judgment – are better positioned to succeed both in school and in life."
What are your thoughts about this study? Do you think the MindUP™ program is of value in the school system?
To your inner peace – Anna
References
"Mindfulness-based Program in Schools Making a Positive Impact: UBC Study."UBC News. 26 Jan. 2015. Web. 2 Feb. 2015.
"Goldie Hawn's Program Makes B.C. Kids Better At Math: UBC." The Huffington Post. 27 Jan. 2015. Web. 2 Feb. 2015.
SINOSKI, Kelly. "Http://www.vancouversun.com/technology/Students Mindful Living Moment Less Stressed More Successful Study Finds/10761254/story.html." The Vancouver Sun. 26 Jan. 2015. Web. 2 Feb. 2015.
Please follow and like us: