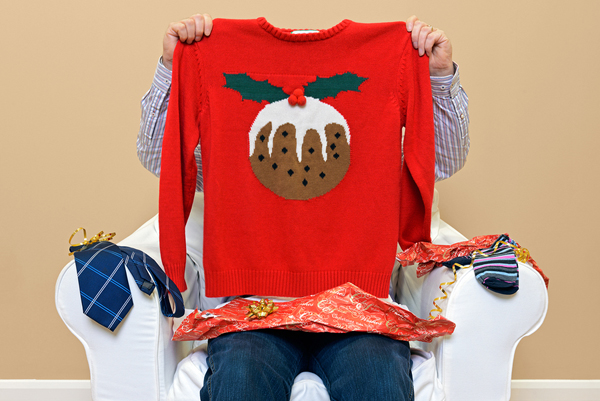 We're all so plugged in these days. Everywhere you look someone is on a phone, on a tablet, or sitting in front of a computer screen. Technology has replaced face to face communication in almost every way imaginable. It's even gone as far as replacing the quality time that we used to spend with family. With the holiday season fast approaching, now is the perfect time to grab hold of that cord and unplug it! Focus instead on the loved ones around you.
The easiest way to do this is to be present in the moment of Christmas, rather than just going through the motions. For example, the next time your kooky aunt suggests a tacky Christmas sweater get-together, really put some thought into selecting that sweater and appreciate what it means to have that time as a family to laugh and enjoy each other's company. Instead of thinking of it as a chore, appreciate the people you are with and take the time to be thankful of the effort and thought your aunt has put into the event.
Here are a few other ways to unplug and stay present with those you love during this holiday season:
Embrace Christmas carols: Instead of rolling your eyes when you hear them (over and over again) at the mall, actually take the time to listen to the lyrics and appreciate them. Challenge your family members to a sing-along or rent a karaoke machine and have a Christmas carol sing-off.

Welcome back your inner child: The next time it snows enjoy it before you rush out to shovel it all away. Notice how it looks, feels, and the smell that lingers in the air with it. Invite your family to take a walk in it and make an effort to really take in the winter wonderland around you (the ice on the trees, the sound of falling snow, and the crunch of your footprints in the snow). Live in the moment and savor it. Then challenge everyone to a snowball fight before you go inside!

Have a movie night: Grab some blankets, pillows, some hot chocolate, and popcorn and settle in for a night in front of the fire with your favorite movies and favorite people. Turn off all outside distractions and focus only on what's in front of you: the movie and your loved ones.

Write Christmas cards with care: Instead of just scrawling "Love, XYZ" after the pre-printed message, take the time to include a few words about why you love and appreciate the recipient of the card. Show gratitude for what they have done for you. Write cards for those that are no longer with you to help you live in the moment and accept the way things are now. Write a card for yourself reminding yourself of all the good things happening in that moment in your life. Keep it somewhere close by for when you need a reminder of what is important in the here and now. As you write them, be mindful of holding the pen, of your muscles moving to create the words, and the feeling of writing your feelings on paper.

Volunteer your time: Volunteering with a local charity, or even just doing a charitable act like feeding the ducks at the local park, will give you a sense of wellbeing that outshines any gift you may receive. It will also remind you of what the true meaning of giving is and how the holiday is about so much more than lavish presents.

Try some mini mindfulness meditations:

The holiday season can be stressful and you can only be truly present if you are inwardly calm. Here's a quick mindfulness meditation we recommend: 

Being Present
This holiday season give your loved ones the present of you being present with them, instead of stuck behind a screen. Turn your phone off, put your tablet away, and take the time to reconnect with those that really matter. Your electronics will still be there in the new year.
To your inner peace – Anna
Please follow and like us: